Welcome to the Driftin.io Wikia!
This is the OFFICIAL wiki database for the game Driftin.io, a game that is reminiscent of Diep.io and the game that started the IO craze, Agar.io. In this game, you control a polygon shaped vehicle that races against other players. You upgrade, kill and win to become what no one else is. Are you ready to be the fastest that ever lived, the first survivor to lap 20? Play at http://driftin.io/
Have any fan ideas, check out the Driftin.io conception wiki here, made by one of this wikis admins, FallenBooster.
Demo Video
The intensity is real! Compete with others in real time as you try to be the very best!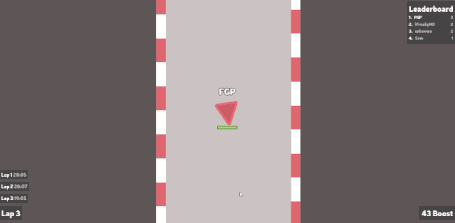 How To Play
The objective of the only game-mode is to make 20 laps around a rectangular track. The first person to do so ends the game and is declared the winner. Every time you complete a lap, you get healed back to max health and your boost is restored. You also get a "Skill Point" to spend on an upgrade or an item, which will help you furthermore. But if you die, your laps are reset to 1, so be vigilant! Killing people also may give you a "Skill Point".
Different classes work better with different strategies, some classes are slow but pack a punch, others are fast but fragile.
Classes
New Edits